HURRICANE & OTHER DISASTERS PREPAREDNESS
---
Remember Noah? - The Original Prepper
Everyone Laughed
when he was building the Ark
ONLY HIS FAMILY & PETS SURVIVED
97% of the entire US Population will Perish
Waiting for the cavalry or a god to save them
This website is for the 3% - "US"
How can I make such a statement? [Perish]
intransitive verb
To die or be destroyed, especially in a violent or untimely manner.
To pass from existence; disappear gradually.
The majority of people who call themselves "American", aren't. This majority are the lazy ass people, mostly illegal aliens and criminals enjoying their entitlements [A government program that guarantees and provides benefits to a particular group.] - they will go along to get along with anything the Communist NWO is doing, so as long as free money, housing, food stamps (etc) is keeping their lazy ass from having to work for a living, they will not say BOO and will allow America to be destroyed. Only until it is too late and they have to eat Soylent Green will they scream bloody murder. TOO LATE. Don't count on any of them to help restore America.
Once TSHTF, they will find my door closed to them.
(The Movie: After analysis, the Books confirm that the oceanographic report reveals that the oceans are dying, and can no longer produce the plankton from which "Soylent Green" is made. The reports also reveal that "Soylent Green" is being produced from the remains of the dead and the imprisoned, obtained from heavily guarded waste disposal plants outside the city.) IT WON'T BE A MOVIE & THERE WILL BE NO INSTANT REPLAY!!!
What happened to our America? Do you remember the good ole days? Roy Rogers, Father Knows Best, Andy of Mayberry, Li'l House on the Prairie, Bonanza, Happy Days, The Fonz, Nanoo-Nanoo/Robin Williams, Mat Dillon, Kitty-Gunsmoke, Have Gun Will Travel ?

Gas was less than a dollar, later $1.25/Gallon, a Chevy with a 427, Hurst Shifter, and 4:11 Posi Rear End could be ordered from the factory for $5,000.00, going to a Drive-In to watch a Movie, a Burger, Fries & Root Beer at A&W brought to your car window on Roller Skates, there were no cameras on every street intersection across the entire US with Big Brother NSA watching us, WE FELT FREE from an Oppressive Out of Control Government, we did not even think about it.

Being a Boy Scout, you could bring your gun to school -- there was no such thing as school shootings, kids weren't on Ritalin and other Psychotropic (legal) Drugs, we didn't hear every day and night on the news about The Middle East bogeymen like a Saddam, Osama, ISIS -- coming to kill us, it was OK to have any weapon for self defense or hunting and the government promoted everyone should have a Bunker, Congress wasn't trying to take our guns by Gun Con-trol.

America was truly THE greatest Nation on the planet and everyone loved us and wanted to be like us, we weren't hated, kidnapped & beheaded, you joined the Service to be a G.I. like Elvis, to see the world and savor different cultures instead of hating the world, invading countries, slaughtering untold millions of collateral damage civilians, little children, women, claiming we are bringing them Democracy but the Elite really wanted that country's Oil or other assets. There was no Global War Of Terror, no Fatherland Security or TSA feeling up your wife, daughters, or 84 year old grandmother's privates brazenly in broad daylight with people watching (like NAZI ss), else you could not take a flight anywhere.

We weren't afraid of our own government or being pulled over in a traffic stop for no reason and maybe end up dead. We could grow a garden and eat Organic, health food stores weren't raided by masked men with guns.

WHERE IS ALL THIS GOING? HOW WILL IT END, WILL IT EVER END?
Are you Prepping or thinking about it?
Are you a Survivalist?
Do you want to know more about or practice Self-Sufficiency?
Are you a Free-man?
Are you prepared for a catastrophic Disaster worse than 9/11 & Katrina/Rita combined at the same time?
Can you protect your family and survive a Red Dawn/The Postman Scenario tomorrow, by enemies inside the gates or perhaps China?
Are you concerned about Economic Downturn, no food to feed your family, no worthwhile jobs, Marshall Law, Rioting, Pandemic, Terrorist Attack, Forced Vaccination, Chip Implants, World Government, Nuclear/Chem-Bio War?

There are literally hundreds of "preparedness/survival" websites and untold numbers of YouTube videos on these subjects -- much of the information is "good stuff to know". If you didn't have a life or a job supporting your family;

It would take a person perhaps 2 years to read/digest every website and watch every video and by the time you think you know enough, another 2 years of info to digest appears pooh-poohing/superseding what you thought was all you needed to know.

While some of the information is good -- GOOD IS NOT ENOUGH. Everyone today with a Smart Ass cell phone is an EXPERT and scaring you with their own plagiarized from other websites - materials.
WHO CAN YOU TRUST? What GURU are you following? What are their CREDENTIALS or are they a Paper Tiger and most of them funded by the would-be government in DC (District of Criminals) to entrap you.

Now you can have direct in-person access to perhaps the most experienced all around knowledgeable person having been on the inside and then having to live for some 30 years as "enemy of the CORPORATE STATE".

NOTE: These are not your regular "Prepper " Workshops and not available anywhere else.
<><>
THERE IS NO SUCH THING AS
"HURRICANE SEASON" ANYMORE
More Violent Storms Of All Kinds Are Coming
As well as Possible Grid Down or Nuclear War
WORKSHOPS FOR EVERYONE
Your Workshop is Private, Personal, & Specific
For your family only - it is not done in a group setting
Your Q & A designed for you Only unless you are a
Church, Synagogue, Community, etc

PREPARE NOW - IT'S LATER THAN YOU THINK
Workshops are to impart knowledge and help you to be better prepared to go it at Home Alone or if you decide to Evacuate. Or perhaps you are concerned about the coming world food shortages, end of Social Security, Food Stamps, high pricing for literally everything, from Heating, Cooling, cost of Gas for your vehicles. YES - if you are still in the dark it is past time to prepare for worst times in America. Or you can pooh-pooh this information and become a slow boiling Frog. When you finally wake up, it will be too late to survive.
Where should you live, where should you move to, bug-out to, or hunker down at home, or a plan for a second home or some land? There are many things to consider, the time to KNOW and have ANSWERS is right now, before D-Day. You will not survive long in inner cities - you will die there.
Years ago planning to move to the mountains when TSHTF was plausible, no more. And those who are already there will not be welcoming you unless you have something unique and long lasting skill-set to offer an existing group which could buy you a welcome ticket.
However, living close to accessible waterways; rivers, lakes, fresh water Springs, rural, as in Florida, is where you stand a much better chance at survival, grow some food items, but more important have access to abundant existing marine foods (various fish) and where you can live a Minimalist Lifestyle without government/utility company electrical power for Heating/Cooling, Cooking, etc.
If you are planning to move to the Mountains, you have no "abundant" existing food nor can grow foods in a short time weather permitting, which means your gardens aren't transportable in a backpack and your Garden is your enemies garden. If you do not own land in the mountains, you may be trespassing on someone's land, accidentally kill some of their livestock which makes you an enemy stealing food, and a target to be hunted down and killed.
If you remain in inner-cities and suburbia, your starving neighbors (who did not prepare) and armed gangs will kill you for your foods. (movies like BUSHWICK & other vids on this site)
SCARY WORDS YOU SAY ? IT WILL NEVER HAPPEN IN AMERICA?
Do You believe the government will feed you in a GRID DOWN for say 5-10 years (it will take that long to make new HiV transformers etc), or lower food costs for you? GOOD LUCK.
IN ADDITION TO HURRICANE PREPAREDNESS, DISASTER PREPAREDNESS WORKSHOPS ARE ALSO AVAILABLE no matter where you live.


THESE AND MANY MORE QUESTIONS SHOULD BE ADDRESSED LONG BEFORE THE NEXT STORM - The Life you save may be your child or your own.

Workshops to learn HOW-TO (DIY) or for me to work with you or via SKYPE/ZOOM live video and be certain your family will survive, the time to do all that is before the lights go out and stays out. Special arrangements can be made RIGHT NOW for me to come to your location (nationwide) or you come to Florida with your wife and children for a new kind of vacation, get your family on the same page without scaring them, think RED DAWN (the original movie) - have faith in your children, give them the tools so they can live if something happens to you.

I do not sell Snake Oil products or untested fantasy solutions.

Your initial 10 minutes is Free - make it count and the conversation will continue for as long as it takes for you to state your concerns/needs, pro bono

Provocateurs & Government whores, lose my number.

321 . 373 . 37 38 Voice & TxT. / 9-11A & 7-9P :: Please do not call at other times, your number will be blocked. I deal in total transparency, if you block your PH#, you go to cyberspace.

Pee-S: I am not lonely and do not seek pen pals for lengthy go-nowhere chats.
WORKSHOPS & CONSULTATIONS, TRAINING & OTHER SERVICES - ARE NOT FREE!

Your Workshop is Private, Personal, & Specific
For your family only - it is not done in a group setting
Your Q & A designed for you Only unless you are a
Church, Synagogue, Community, etc.

Nothing I will discuss with you is illegal. Prepping for a Disaster is "American" as Apple Pie Chevrolet all the way. It is for Law Enforcement also. In the aftermath of a Super Disaster, Police & National Guard will become American Citizens, will realize they need to ban together with you. The people you should fear in such an emergency is YOUR NEIGHBOR & ARMED GANGS who will come for your food and kill you for no good reason. I need not tell you what other atrocities will befall the average peaceful (don't own a gun) homeowner, their wives and little girls. There are enough horror movies available which show "Man's inhumanity to Man". In a GRID DOWN, Nuclear/Biological War, Famine - everyone will be a Frog in the same pot - the ones who survive will be those who KNOW HOW TO.

[ The Politicians & Government miscreants will go hide underground and if there is a GOD OF JUSTICE - through Earthquakes (etc) they will be sealed in a massive tomb - and forever be wiped off the face of this Earth. We pray - peace and freedom will be restored,
GOD BLESS AMERICA ! ]





Contact: Info@DisasterSurvivalTechnologies.com <
<><>
<><>
<><>
While images of destruction caused by last year's battery of hurricanes are still fresh in the minds of many Americans, including those living on Puerto Rico where after six months power is not fully restored, forecasters are cautioning the public to brace themselves for another busy hurricane season.
Researchers at Colorado State University predict this will be a slightly above-average season, with 14 tropical storms in 2018. Seven are expected to become hurricanes, which have a wind speed of at least 74 mph. Three of those seven are expected to be major hurricanes, Category 3 or higher, with winds reaching a minimum of 111 mph.
The Atlantic Hurricane season runs from June 1 through the end of November.
"Coastal residents are reminded that it only takes one hurricane making landfall to make it an active season for them, and they need to prepare the same for every season, regardless of how much activity is predicted," researchers say.
By comparison, 2017 had a total of 17 named storms — with 10 becoming hurricanes and six of them major hurricanes — including Hurricanes Harvey, Irma and Maria, which ravaged Texas, Florida, and Puerto Rico. But that number exceeded forecasters' expectations, including the team from CSU. The university had only anticipated 11 tropical storms with four becoming hurricanes.
Before Harvey made landfall it was predicted as merely a tropical storm or Category 1 hurricane with wind speeds up to 85 mph. But within a few days and by the time it hit the ground near Corpus Christi, Texas, it had developed into a Category 4 with 132 mph winds.
"We issue these forecasts to satisfy the curiosity of the general public and to bring attention to the hurricane problem," the university said. "There is a general interest in knowing what the odds are for an active or inactive season."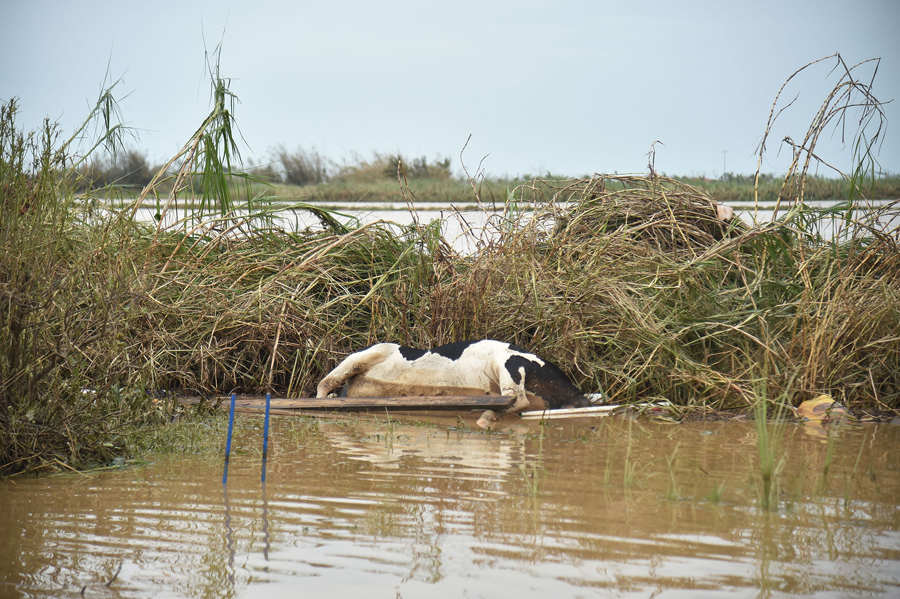 THE ENTER BUTTON WORKS ONLY FOR THOSE WHO HAVE ALREADY CONTACTED ME
Contact: Info@DisasterSurvivalTechnologies.com <