'Don't Wait Until the Bombs Are Falling.' Pentagon Papers Leaker Encourages More Like Him
January 18, 2018
The country is currently not the closest we've ever come to nuclear war, says Daniel Ellsberg, but we are still likely to face annihilation. And recent false alarms in Hawaii and Japan, erroneously alerting residents to incoming missiles, do nothing to quell the anxiety. "This was a little rehearsal," Ellsberg says, "but not the first one, of being right on the edge of destruction."
The history-making whistleblower softens no blows, sugarcoats nothing. The 86 year-old went to battle with the U.S. government when he released the Pentagon Papers in 1971, walking away a free man after a landmark trial in which he was charged under the Espionage Act. But Ellsberg has more alarms to sound. "The threats to exterminate North Korea for acts by its leaders are illegal, immoral, monstrous," he tells TIME from his home in Kensington, Calif. There is a chance humanity will survive the weapons of its own making — but "it's very unlikely."
Ellsberg's urgent interest in nuclear debate runs deep. Before he released the material that revealed the government misled the public about the extent of U.S. involvement in the Vietnam War — a story newly refreshed by Matthew Rhys as Ellsberg in Steven Spielberg's latest, The Post — Ellsberg was a nuclear analyst and consultant to the Department of Defense, where he helped draft Secretary Robert McNamara's plans for nuclear war. In December, he released The Doomsday Machine: Confessions of a Nuclear War Planner, a book which unravels his untold history with 1960s nuclear secrets and his would-be plans to release them.
The book — and the first-hand understanding of the dangers of nuclear war it yields — come at an essential moment, as President Donald Trump knocks on the door of conflict with North Korea. The claim that casualties resulting from war with North Korea would be "over there" rather than "over here," put forth by Republican Sen. Lindsey Graham of South Carolina in August, is both "vile" and "false," Ellsberg declares; Kim Jong Un has planned for the ability to cause harm in the U.S., of that we can be sure.
"Trump could not totally eliminate, even in a surprise nuclear attack, the North Korean ability to retaliate," Ellsberg says. And don't forget chemical warfare capability: Kim's half-brother Kim Jong Nam was assassinated just under a year ago with the nerve agent VX. The risk of conflict with North Korea, Ellsberg contends, is likely to be far, far greater than what we've been told. "If I had access to those official estimates right now, I would certainly consider putting that information out to the press, to the public, to Congress and the world," he says, adding a plea to those who might have truths within their reach: "Don't do what I did; don't wait until the bombs are falling or thousands have died if you have information that might avert that." Also on Ellsberg's whistleblowing wish list: the 6,000-page 2012 Senate report on torture.
The decision whether to leak or keep nuclear secrets was made for him. The most intriguing tale in his book, fodder for a political thriller on its own, involves the documents he never made public. All the while Ellsberg busily copied 7,000 classified pages from the "History of U.S. Decision-Making in Vietnam, 1945-68" report, he also copied a trove of documents on the country's nuclear program—pages he judged even more crucial, more imperative to the fate of the country than those on the war in Southeast Asia. Pages he always intended to release at the conclusion of his Pentagon Papers trial. But Mother Nature denied him the chance: he gave the documents to his brother Harry, who held them in his Westchester County, N.Y. basement for two years, moved them to his compost heap when the FBI started hunting for Ellsberg in 1971, then—the day before mysterious men were seen prodding the spot where they'd been in his yard—to a place near a junked gas stove in the local dump. But a storm swept the papers away, never to be discovered again.
Ellsberg is staunchly in favor of counter-proliferation. "It's possible to make a case for a small deterrent force of nuclear weapons if your neighbors or adversaries, opponents at war, have such weapons," Ellsberg admits — but he cites Herbert York, the nuclear physicist who once ran the Lawrence Livermore Laboratory, when he adds that we can justify closer to one than 100 weapons. "You do not need the ability to cause nuclear winter to achieve any national objective, like deterring nuclear attack or occupation—you do not need the ability to end most life on earth," he says. And yet we have it, as does Russia. On the plus side, he adds: North Korea does not.
Ellsberg believes there is a real possibility that the U.S. will go to war with North Korea, and that such a war would be catastrophic. It would not bring about the end of humanity as a war with Russia has the potential to do, he says, but it would kill millions and risk putting the country on a dangerous course, particularly under the leadership of President Trump. Ellsberg speculates there would be a "crackdown" in the U.S., in the event of North Korean retaliation. He envisions a suspension of the Constitution, a country with detention camps, mass deportations and total surveillance — the end of democracy.
If there was one lesson the whistleblower learned in the Pentagon Papers episode that we must apply now, it's this: "Intelligent, patriotic, conscientious men can in secret pursue monstrous policies," he says. "In other words, in the darkness, prevented from any public awareness, very smart men can act not only stupidly, but also crazily."
The year is 2030. [PK interjects - NO, it will be sooner than] Forget about the flying cars, robot maids, and moving sidewalks we were promised. They're not happening. But that doesn't mean the future is a total unknown.
According to a startling Pentagon video obtained by The Intercept, the future of global cities will be an amalgam of the settings of "Escape from New York" and "Robocop" — with dashes of the "Warriors" and "Divergent" thrown in. It will be a world of Robert Kaplan-esque urban hellscapes — brutal and anarchic supercities filled with gangs of youth-gone-wild, a restive underclass, criminal syndicates, and bands of malicious hackers.
At least that's the scenario outlined in "Megacities: Urban Future, the Emerging Complexity," a five-minute video that has been used at the Pentagon's Joint Special Operations University. All that stands between the coming chaos and the good people of Lagos and Dhaka (or maybe even New York City) is the U.S. Army, according to the video, which The Intercept obtained via the Freedom of Information Act.
The video is nothing if not an instant dystopian classic: melancholy music, an ominous voiceover, and cascading images of sprawling slums and urban conflict. "Megacities are complex systems where people and structures are compressed together in ways that defy both our understanding of city planning and military doctrine," says a disembodied voice. "These are the future breeding grounds, incubators, and launching pads for adversaries and hybrid threats."
The video was used as part of an "Advanced Special Operations Combating Terrorism" course offered at JSOU earlier this year, for a lesson on "The Emerging Terrorism Threat." JSOU is operated by U.S. Special Operations Command, the umbrella organization for America's most elite troops. JSOU describes itself as geared toward preparing special operations forces "to shape the future strategic environment by providing specialized joint professional military education, developing SOF specific undergraduate and graduate level academic programs and by fostering special operations research."
Megacities are, by definition, urban areas with a population of 10 million or more, and they have been a recent source of worry and research for the U.S. military. A 2014 Army report, titled "Megacities and the United States Army," warned that "the Army is currently unprepared. Although the Army has a long history of urban fighting, it has never dealt with an environment so complex and beyond the scope of its resources." A separate Army study published this year bemoans the fact that the "U.S. Army is incapable of operating within the megacity."
These fears are reflected in the hyperbolic "Megacities" video.
As the film unfolds, we're bombarded with an apocalyptic list of ills endemic to this new urban environment: "criminal networks," "substandard infrastructure," "religious and ethnic tensions," "impoverishment, slums," "open landfills, over-burdened sewers," and a "growing mass of unemployed." The list, as long as it is grim, accompanies photos of garbage-choked streets, masked rock throwers, and riot cops battling protesters in the developing world. "Growth will magnify the increasing separation between rich and poor," the narrator warns as the scene shifts to New York City. Looking down from a high vantage point on Third Avenue, we're left to ponder if the Army will one day find itself defending the lunchtime crowd dining on $57 "NY Cut Sirloin" steaks at (the plainly visible) Smith and Wollensky.
Lacking opening and closing credits, the provenance of "Megacities" was initially unclear, with SOCOM claiming the video was produced by JSOU, before indicating it was actually created by the Army. "It was made for an internal military audience to illuminate the challenges of operating in megacity environments," Army spokesperson William Layer told The Intercept in an email. "The video was privately produced pro-bono in spring of 2014 based on 'Megacities and the United States Army.'… The producer of the film wishes to remain anonymous."
According to the video, tomorrow's vast urban jungles will be replete with "subterranean labyrinths" governed by their "own social code and rule of law." They'll also enable a proliferation of "digital domains" that facilitate "sophisticated illicit economies and decentralized syndicates of crime to give adversaries global reach at an unprecedented level." If the photo montage in the video is to be believed, hackers will use outdoor electrical outlets to do grave digital damage, such as donning Guy Fawkes masks and filming segments of "Anonymous News." This, we're told, will somehow "add to the complexities of human targeting as a proportionally smaller number of adversaries intermingle with the larger and increasing number of citizens."
"Megacities" posits that despite the lessons learned from the ur-urban battle at Aachen, Germany, in 1944, and the city-busting in Hue, South Vietnam, in 1968, the U.S. military is fundamentally ill-equipped for future battles in Lagos or Dhaka.
"Even our counterinsurgency doctrine, honed in the cities of Iraq and the mountains of Afghanistan, is inadequate to address the sheer scale of population in the future urban reality," the film notes, as if the results of two futile forever wars might possibly hold the keys to future success. "We are facing environments that the masters of war never foresaw," warns the narrator. "We are facing a threat that requires us to redefine doctrine and the force in radically new and different ways."
Mike Davis, author of "Planet of Slums" and "Buda's Wagon: A Brief History of the Car Bomb," was not impressed by the video.
"This is a fantasy, the idea that there is a special military science of megacities," he said. "It's simply not the case. … They seem to envision large cities with slum peripheries governed by antagonistic gangs, militias, or guerrilla movements that you can somehow fight using special ops methods. In truth, that's pretty far-fetched. … You only have to watch 'Black Hawk Down' and scale that up to the kind of problems you would have if you were in Karachi, for example. You can do special ops on a small-scale basis, but it's absurd to imagine it being effective as any kind of strategy for control of a megacity."
The U.S. military appears unlikely to heed Davis's advice, however.
"This is the world of our future," warns the narrator of "Megacities." "It is one we are not prepared to effectively operate within and it is unavoidable. The threat is clear. Our direction remains to be defined. The future is urban."

"Megacities: Urban Future, the Emerging Complexity," a video created by the Army and used at the Pentagon's Joint Special Operations University.
If you have read this excerpt or know the story, skip down a little to read important info
Atlanta's Hartsfield-Jackson airport restores power after crippling outage
The lights flickered on shortly before midnight, after an exhausting day for travelers, that had left thousands stranded in dark terminals and on planes sitting on the tarmac. A ground stop in Atlanta disrupted air travel across the United States and led to cancellations of more than 1,000 flights in and out of the airport.
Shortly after power came back, some passengers lined up at security screening, hoping to beat the crowds as the TSA checkpoints re-opened at 3:30 a.m. The airport could see a logjam of passengers and delays as more than 400 flights have been canceled Monday.
The outage, which affected all airport operations, started with a fire in a Georgia Power underground electrical facility, Atlanta Mayor Kasim Reed said. The electrical fire's intensity damaged two substations serving the airport, including the airport's "redundant system" that should have provided backup power, Reed said.
Inside the airport, the outage cut power in the terminals, leaving passengers stranded in the dark as they stood in line at gates and security checkpoints. An estimated 30,000 people were affected by the power outage, Reed said.
"There were a few emergency lights on, but it was really dark -- felt totally apocalyptic," she said. "I decided to get the hell out of there."
THE ABOVE EXCERPT IS ONE OF MANY NEWS REPORTS
It is amazing how after every disaster-emergency-hurricane-TerrorAttack-pick any more names of these events, the "authorities" always have an EXCUSE, or a lame one even a 3 year old child would question but the majority of the adult (?) civilian population accept what they are told.
EXAMPLE: The electrical fire's intensity damaged two substations serving the airport, including the airport's "redundant system" that should have provided backup power, Reed said.
Redundant defined: (of a device, circuit, UPS system, generator, computer system, etc.) having excess or duplicate parts that can continue to perform in the event of malfunction of some of the parts.
READ MY LIPS
Duplicate Generator means a SECOND Generator which should include the Power Transfer Switch.
Yet the WORLD'S BUSIEST AIRPORT system FAILED when it was needed - and not because of ALIENS ATTACKING, NOR THE RUSSIANS INVADING, NOR ISLAMIC TERRORISTS, but a mere simple "fire in a panel". YEP - that took down the world's busiest airport which affected flights all over the world, stranded 30,000 people.
Imagine IF - the GRID really went down (for 4-10 years) or it was a Terror Attack, or if power could not be restored for 3 weeks.
CHAOS - people would be Starving, dying lunatics - ZOMBIE APOCALYPSE, and we are only talking about mass outage for a few weeks.
Apparently the Security & Engineering firms hired by The State/Airport Authority didn't do their homework, but that is par for the course in America, State & Federal Government are more concerned about their <personal> CORPORATE PROFITS than the health, security, safety, and well being of its citizens.
TRILLIONS OF DOLLARS for making wars across the globe and that does not include an additional LOST $21 TRILLION:
https://www.activistpost.com/2017/12/21-trillion-global-pandoras-kitty.html
BUT WAIT - THIS WEBSITE ISN'T ABOUT CONSPIRACY, IT IS ABOUT BEING SELF SUFFICIENTLY PREPARED
REMEMBER - FEMA, NATIONAL GUARD, UTILITIES,
START MOBILIZING TO SHOW UP
"AFTER THE STORM HAS PASSED"
WHEN PEOPLE HAVE BEEN SUFFERING & DYING
WAITING ON THE CAVALRY TO COME - BUT IN MANY CASES,
TOO LATE & TOO LITTLE FOR THOSE WHO ARE NOW DEAD
Bomb Shelters
NOT JUST FOR NUCLEAR
BUT CHEM-BIOLOGICAL
CIVIL WAR-GRID DOWN
Millions of Starving People will kill for food and water
YOUR FOOD - SHARING WILL NOT WORK IN MASS DISASTER
YOU CANNOT FEED THEM - THEY WILL KILL YOU FOR BREAD

IF you feel any TEXT or VIDEO on this website is to Hollywood Shock
Scare you instead of to Help You
Prepare for a Major Disaster - which you feel won't be so bad because you have lived through a major storm before
ignoring the elephant in the room = you
BEFORE YOU RISK THE LIVES OF YOUR FAMILY
PUT YOURSELF THROUGH THIS SIMPLE TEST:

Tell your family you want to play a game with them like the Survivor TV series where someone wins a Million Dollars at the end of each Season.
If everyone in the family plays the game, at the end of two-weeks if no one breaks the rules you will take the entire family on a One Month Vacation to the Bahamas, or Alaska, - anyplace they choose. Remember: if even one of the players violates the rules - the entire family loses.

HERE WE GO: (you give them the game and the rules) Tomorrow Morning when we wake up - Dad will (like Santa) stay up late and he will use a special Security Tape to seal off the Kitchen Pantry/Cupboards. He will also seal the Freezer if you have a lot of Frozen Meat, there will be only 6-eggs, 1-Qt Milk, a Half Pound of Deli Ham, a Half loaf of sliced Bread, 4-Gallons of Drinking Water.

[Now without writing out a lot of rules and scenarios here - as each family will have different refrigerators, pantry, cupboard etc] - what we are saying here that YOU will be doing is leaving only a small amount of food items and maybe 2 cans of Beans out in the open or that everyone will have to share FOR TWO WEEKS. No one can order in Pizza etc, or borrow food or water from a neighbor.

You will also tape up the Shower Heads and drain your Hot Water Heater after turning off the circuit breaker. The HVAC breakers will also be turned off and breakers sealed with that special security tape. A family of 4 will have to share and survive on the above mentioned for 2 weeks.

You bought One Flashlight, and turn off the 200 AMP Main Breaker in Master Panel (of course if you have a lot of food that will spoil - as stated, instead of turning off the main breaker, you leave only the freezer/refrigerator breaker ON but tape the door closed.

Essentially you will simulate a simple Hurricane Scenario and FEMA is overwhelmed because the entire STATE where you live - has lost power or Helicopters fly over the area with loud speakers warning everyone to stay indoors because a biological agent was accidentally released when a Train carrying Military WMD got derailed "accidentally".

You have 1-Candle, 1-Flashlight, no Heat or A/C, No running water. Your family will have to poop in an empty plastic Cat Litter container [for the faint of heart - OK, we'll allow an extra 4 Gallons of NON DRINKING WATER - so you can flush the toilet once a day].

BAM - it is now tomorrow Morning and everyone is awake - NO TV, NO CELL PHONE, NO INTERNET, NO RADIO, it is either humid where you live or if up North, it is not Winter yet but temperature is 60 degrees F. Hubby has taken a 2 week leave from his job, Wifey-Poo is a Soccer Mom for this exercise.

I'll venture to bet - in one week every family member will default. WELCOME TO PUERTO-RICO or any of the Islands which got devastated this year 2017.

AND that is from a NATURAL (?) ACT OF GOD - Hurricane.
Think America will never suffer a Nationwide Terrorist Attack on US Soil?
Or an accident or Solar Flare causing GRID DOWN?

This year - WAL-MART and all stores were sold out of food and water for a week. But most people had running water if Power came back On in 3 days.

WE ALL HAVE HAD A WAKE-UP CALL, but..
---
Remember Noah? - The Original Prepper
Everyone Laughed
when he was building the Ark
ONLY HIS FAMILY SURVIVED
:::::::::::::::::::::::::::::::::::::::::::::::::::::

MARIA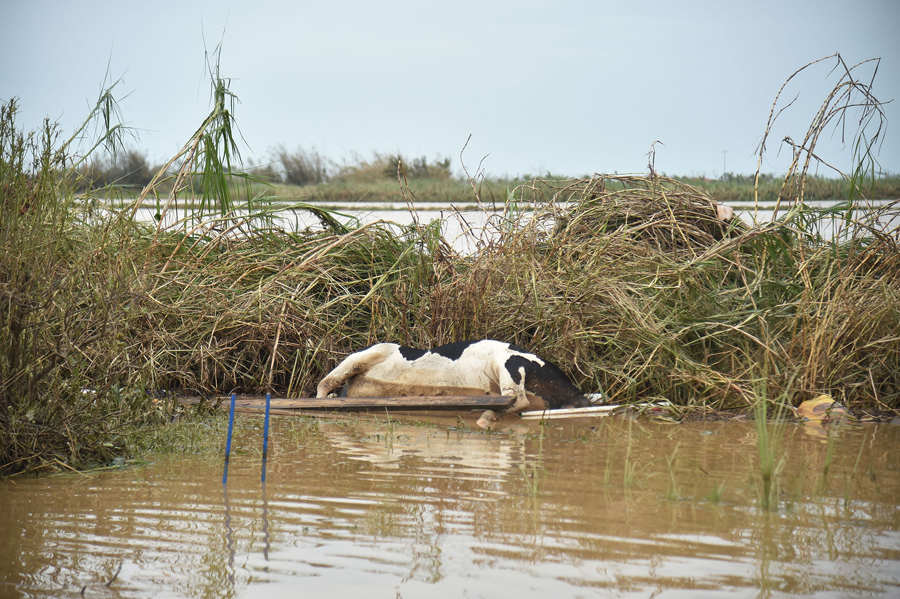 HARVEY


IRMA - Brevard County